GASFITTING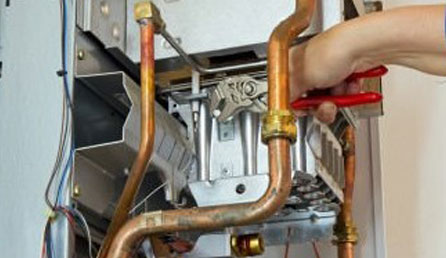 Gasfitting Service in Sherwood Park
Gas appliances are making everybody's lives more comfortable, and sometimes even a little easier. Natural gas appliances can range from boilers and furnaces for your home's warmth, to stoves and BBQ's for cooking, all the way to the very cool tiki torches and fire-bowls found on pool decks and restaurant patios.
Gas fitting includes installation of new gas pipes, extensions to existing gas supply pipes, installation of extra gas connections for gas heaters, detection of gas leaks & complete installation services for gas appliances including gas hot water heaters & gas ovens; Leger's Plumbing & Heating can even connect & install that new gas BBQ for you!
With regular inspections and boiler service, a gas fitter can quickly identify system wide problems with a gas fired heating appliance.
Our Services
Plumbing and Heating
The pros at Leger's Plumbing can fix all types of plumbing problems and maintain residential plumbing or commercial plumbing needs.
Boiler Repairs and Upgrades
Whether your problem is a leaky faucet or a broken hot water heater, Leger's Plumbing has every aspect of plumbing covered.
Furnace Repair and Installation
We want to help you stay warm throughout the winter by assisting you with your furnace needs. Your continued comfort and safety is our top priority.